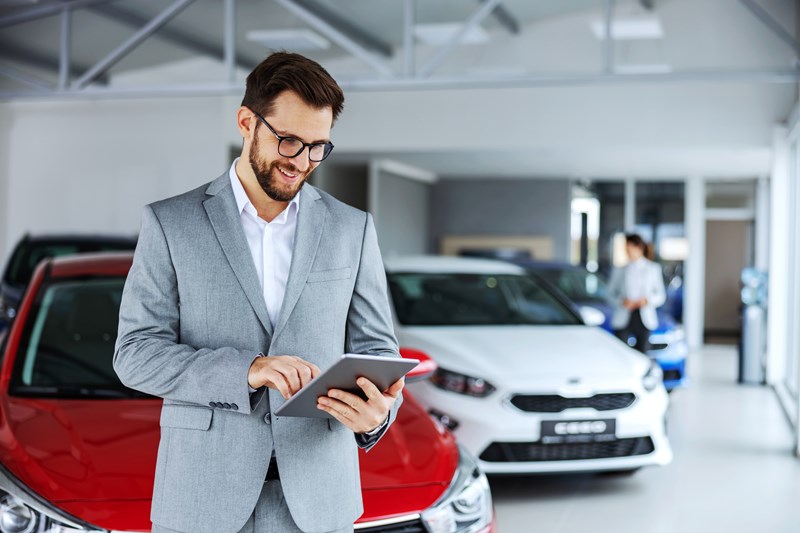 We get it, as a motor dealer in the UAE, you often have a thousand different things to do. From stock management to VAT and everything in-between there's no shortage of things to do. One of the biggest mistakes UAE car dealers make is working in the dealership instead of on the dealership.
To be successful in the UAE motor industry dealers need to streamline and automate their day-to-day tasks and focus on future growth. The only way to do that is by using a dealer management system.
A dealer management system has become an essential tool for motor dealers in the UAE as it provides many benefits that both increase efficiency and maximise profit.
Here are 6 reasons why UAE dealers need a dealer management system:
1. Automates daily dealership tasks
As a motor dealer in the UAE your main focus is to sell great cars and generate profit. Dealers simply cannot afford to waste time on common administrative dealership tasks. A dealer management system like EasyCars streamlines and automates the day-to-day tasks of running a motor dealership in the UAE.
Using EasyCars dealer management system, dealers can automate stock management, advertising, VAT compliance, website listings, invoicing and accounting all in the one industry specific web-based solution.
Related article: Tasks UAE dealers can automate using a Dealer Management System.
2. Increases dealership efficiency
How long do you spend completing different admin tasks? Repetitive tasks are a common frustration for many businesses across the world – often when businesses get stuck doing different administration tasks other areas of the business suffer.
As a dealer management system automates many of the common daily tasks of running a motor dealership, dealers wont need to manually complete manual tasks – more free time to focus on increasing sales and maximising profitability.
Related article: How UAE car dealers can increase profit.
3. Centralises operations
Many dealerships in the UAE use multiple systems to manage different areas of the dealership. The problem with using multiple systems for management is you don't get a clear understanding on how the dealership is performing.
A dealer management system provides dealers in the UAE with a centralised industry specific management software. All everyday tasks such as stock management, advertising, accounting, invoicing will all be completed and centralised in one local program.
4. Industry Specific Business Reporting
Are you still using different spreadsheets for reporting? The problem with using a standard template spreadsheet for reporting is it does not paint the full picture. It's one thing to record business data, but it's a whole other task knowing how to analyse and make strategic decisions that grow your dealership.
EasyCars dealer management system provides UAE motor dealers with a unique industry specific business reporting module that cannot be replicated by standard spreadsheet reporting. Using EasyCars, dealers can generate reports on profit, loss, stock, VAT, sales performance, growth, sales figures and so much more – all in the click of a button.
Related article: How UAE motor dealers can improve reporting.
5. Integrates to leading accounting packages
Accounting is a constant headache for many businesses around the world. EasyCars dealer management system integrates to industry leading software package Xero – creating a centralised location for all business financial information.
EasyCars Integrated accounting is a two-way data sync between the management system and your accounting program – once information is added to one system the information will automatically sync to the second program without you or your accountant needing to duplicate data entry.
Related article: Why UAE accountants are recommending Xero for Motor Dealers?
6. Accessible anywhere
The problem with traditional management systems is they are often desktop based, which means they can only be used on the device of install.
EasyCars dealer management system is web-based which means you can access the system at any time and on any device. All you need is a connection to the internet, and you will be able to manage every area of your dealership wherever you would like.
Related article: Why web-based applications are so important for UAE car dealers.
Where EasyCars can help?
EasyCars by Jeal is a UAE motor industry specific, web-based dealer management system that automates the buying and selling of motor vehicles. Using the latest technologies EasyCars reduces common dealership frustrations and increases profit.
EasyCars includes all your every features like Stock Management, Automated Advertising, VAT Compliance, Website Listings, Business Reporting, Integrated Accounting and so much more – everything you need to run a successful dealership in the UAE.
Unlimited users, no lock in contracts and Unlimited training and support.
For a free no-obligation demo of EasyCars, please submit the form below.
Learn more about EasyCars dealer management system